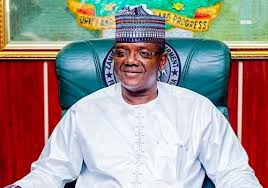 Zamfara State Governor, Dr. Bello Mohammed, on Wednesday launched the COVID-19 Action Recovery and Economic stimulus Programme (CARES) in the state. The Programme is to directly support individuals affected by the COVID-19 pandemic, particularly the poor and vulnerable in the State.
The Governor said this will be accomplished through social transfers, livelihood grants, basic infrastructure provision, support for medium and small business enterprises, and maintenance of food security threatened by Armed banditry and general economic downturn. A statement by the Press Secretary to the Governor, Jamilu Iliyasu, quoted Governor Mohammed as saying the sum of 8.3 Billion Naira is set aside for distribution to 152,107 target beneficiaries to enable their small and medium scale businesses flourish.
He explained that the Programme which would be implemented through three delivery platforms, namely: CSDA, FADAMA, and the ministry of Commerce and Industries, will collaborate with the office of Zamfara State First Lady to address the problem of malnutrition in the state. The Governor added that there is also a CARES Coordinating office unit for the state. The services that CARES will deliver to the common man of Zamfara State including Livelihood grants of 3.4 Billion Naira, Food security 3.4 Billion Naira and Job Creation through Small and Medium scale Enterprises at 2 Billion Naira.
Governor Mohammed further said in order to cover target beneficiaries in all parts of the state, the Programme would be implemented in three phases of Result Area one: to increase social transfer, basic services, and livelihood support to poor and vulnerable households, targeting 82,321 beneficiaries. Similarly, Result Area Two component is aimed at increasing food security and safe functioning of food supply chains for poor households targeting 61,286 beneficiaries, while Result Area Three Component of the Programme would facilitate recovery of micro and small informal businesses, the phase will target 8,500 beneficiaries.
The Governor said his Administration considers it a matter of utmost significance to implement programmes explicitly tailored to mitigate poverty among people and open new economic horizons for committed youths and entrepreneurs. According to him, the administration has been working hard in the last three years to address the issue of insecurity, which has long been a major impediment to economic activity in many parts of the state, in addition to the massive investments in primary, secondary and tertiary education, healthcare, road infrastructure, Cargo Airport construction and a variety of other areas in order to turn around the fortunes of the state.
The State Governor also reaffirmed his administration's resolved to place high premium on the well-being of individuals while also trying to create an environment that allows legitimate businesses and other critical sectors of the economy to function effectively.